Trainer Spotlight
Jim Verga- Summer 2023 Trainer Spotlight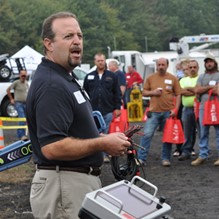 Jim Verga is with Eastcom Associates, a utility products distributor.  Like so many, Jim unintentionally made his way to the industry.  After earning an associate degree in agriculture and working 20 years in artificial insemination of cows, Jim's brother talked him into a career change.  Since 1999, the people have kept Jim in the industry.  He enjoys helping operators overcome the many obstacles and understands their frustration.  Jim believes that from a locator's point of view, tracer wire needs to be used with all plastic mains and services.  He believes this should have been the case 40 years ago, but as an industry that buries its assets, he believes we dropped the ball.  When asked to provide a fun industry story, Jim replied that guardrails make good grounding points; so, when a customer told him it didn't work at their system, after asking a few questions Jim discovered that this particular guardrail had wooden posts! Ah ha!
Jim particularly enjoys teaching the theory of electromagnet fields (how a pipe locator works).  Jim loves helping people and enjoys hearing when the idea he gave someone worked to solve their problem.  When asked to share words of wisdom, Jim stated that someone once said that change is inevitable, but misery is optional.  In Jim's free time he enjoys spending time with his three grandkids (with a fourth due in August).  He likes to ride his motorcycle, play guitar, and play golf (he believes his golf game is even worse than his guitar playing but he still likes to play).
Jim's contact information is: Cell: 908-803-0195, Email: [email protected]
Review the Training Newsletter Archive.
Call us at (800) 653-7792, request more information, or contact a dedicated team member below.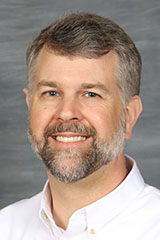 Joel Jordan
Director of Education
Pennsylvania Rural Water Association
Cell: (814) 360-4077
[email protected]